IQ Option were always known in the trading community for their accessibility and their attractive trading conditions, traits that they have managed to retain to this day. Even back when most of their peers required minimum deposits of $200-$500, they offered binary option accounts for as little as $10
Pros
Well regulated
Good customer service support
Well-developed platforms
Innovative
Cons
Not available in some countries
No social and copy trading
IQ Option Review
One of the top representatives of the binary option trading industry, over the last few years, IQ Option have realized that they needed to diversify product-selection-wise. Binary options have never really been known as particularly trust-inspiring and the business model on which they are based, is plagued by a rather obvious conflict of interest. This combination ended up creating a bit of a toxic reputation for the brokerage, a reputation which they have managed to set right for the most part, over the last couple of years. The brokerage has branched out into proper Forex trading, CFDs, ETFs and crypto currencies, and apparently this was pretty much what the doctor had ordered reputation-wise.
IQ Option were always known in the trading community for their accessibility and their attractive trading conditions, traits that they have managed to retain to this day. Even back when most of their peers required minimum deposits of $200-$500, they offered binary option accounts for as little as $10. The spreads on their Forex and CFD products are some of the best in the trading industry, to this day.
With the above in mind, it is not exactly surprising that the brokerage grew by leaps and bounds, even when the going was tough reputation-wise. From about 950,000 accounts in 2014, IQ Option have grown to more than 14 million accounts in 2016. From around 200,000 trades per day in 2014, they now handle more than 3 million. From a monthly trading volume of $10 million in 2014, more than $11 billion flows through the brokerage on a monthly basis, right now.
Perhaps the most spectacular metric regarding the growth of IQ Option is the geographic coverage of the operation. From a handful of countries in 2014, the services of the brokerage are now available in no fewer than 178 countries.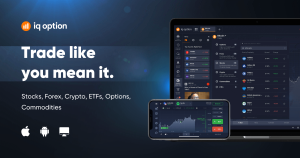 IQ Option Review Details
Germany
Italy
Malta
Montenegro
Netherlands
Thailand
Turkey
Ukraine
United Kingdom